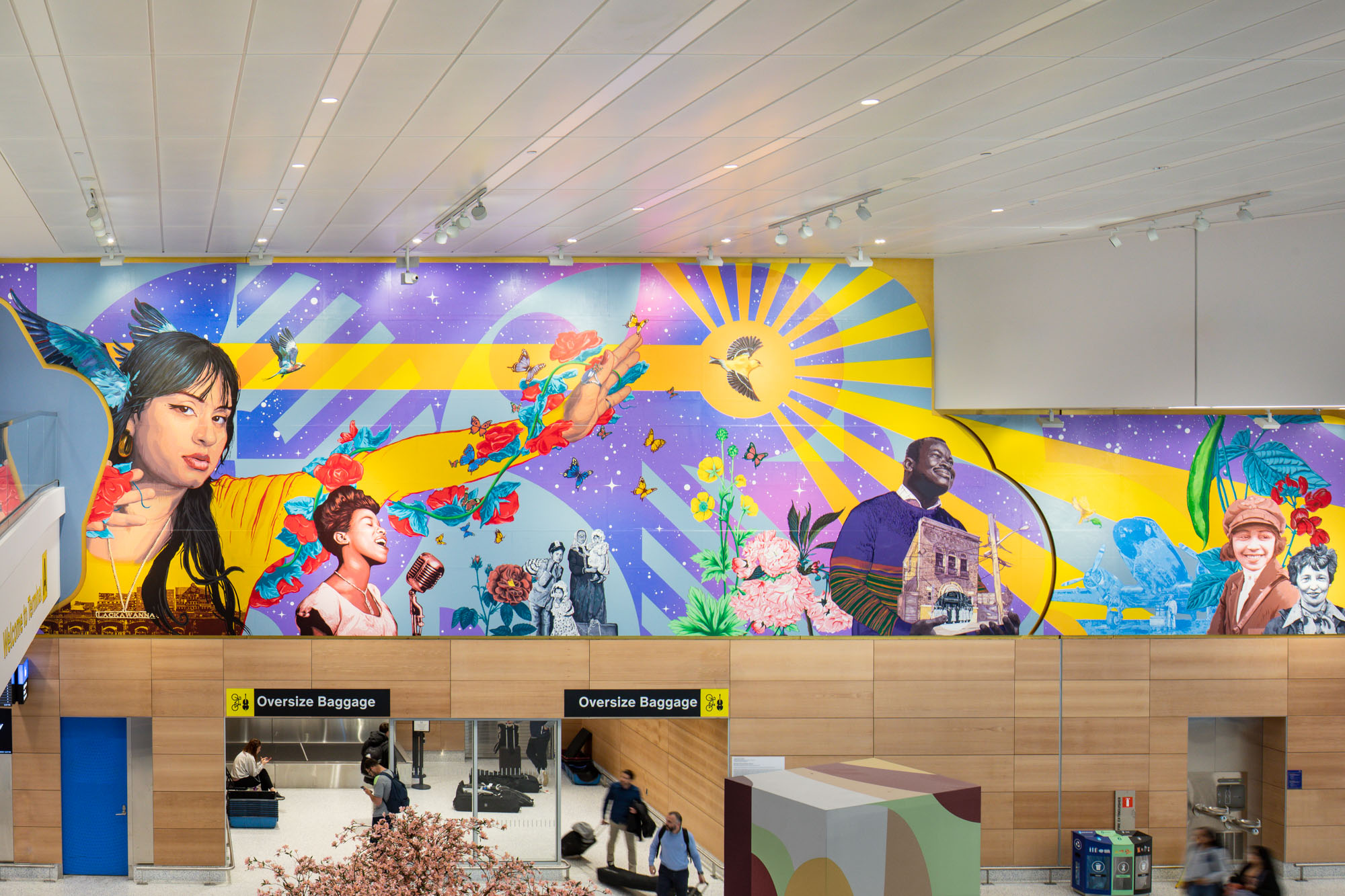 Between the Future Past
2021-22
Acrylic paint and inkjet print on fabric mounted to aluminum panel
18'h x 350' w
Commissioned by the Port Authority of New York & New Jersey and Munich Airport NJ, in partnership with Public Art Fund
Between the Future Past
celebrates the abundant diversity of Newark, New Jersey, and the New York metropolitan area. Layqa Nuna Yawar has reimagined the format of a historical mural to reflect an ongoing cycle of time that embraces past, present, and future. Drawing on his indigenous heritage and Kichwa language, he sees the mural as "a looped narrative that can be read from right to left and left to right." The artwork features native flora and fauna, emphasizing nature as a symbol of growth. It is populated by a wide range of individuals across time, culture, race, and gender, highlighting narratives of personal accomplishment and perseverance that have often been overlooked. People brought by successive waves of global migration, including those from Black, Brown, Asian, and Middle Eastern backgrounds, as well as Indigenous people, are represented in this expansive vision. From airport workers to poets to LGBTQ+ heroes, Layqa Nuna Yawar's mural rethinks who should be celebrated publicly, proposing that all individuals are equally remarkable in their humanity.
EXPLORE THE ARTWORK: Learn more about the figures, landmarks, and fauna depicted in Layqa Nuna Yawar's artwork by clicking here
︎︎︎
Photo: Nicholas Knight, courtesy Public Art Fund, NY.